Happy Holidays from The Remedy!  We are going to be featuring a few amazing sales for the 2021-2022 holiday season!  This set is one of our favorites and we think it will help out a lot of our customers.  That is why we've decided to release our limited time Holiday Stress Set with a bundle savings of $50!!  Please let us know what you think of this offer, and oh yeah, don't stress the holidays,
-The Remedy
      We wanted to start with a Remedy family favorite with our Calm Tincture.  Our line of Calm formulations has been our most popular yet, and for good reason.  With our modern lives becoming more and more stressful, so many people are looking for effective solutions.  Our Calm Tincture is a great place to start.
     Formulated with a 2:1 ratio of CBD:CBG, this tincture was designed with anxiety and inflammation in mind.  This has been our most popular formulation to date, with multiple use cases and great feedback from customers.  We go far beyond a typical cannabinoid formulation with our supporting oils, resins, terpenes, spices, and more.
     It is a common occurrence for us to receive new customers who were dissatisfied with their old CBD brand.  When they begin one of our tinctures they can immediately tell the difference and feel the desired effects.  Click here for more in depth information about our Calm Tincture.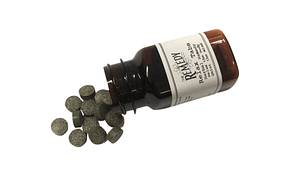 Our Relax formulation is the perfect addition to our Calm tincture for relieving stress during the day.  Packed with a synergistic blend of gabaergic herbs, this formulation will help calm your mind and relax your body.  A lot of our customers find it useful to take one Relax capsule during times of stress.  
     We have also found that two Relax capsules at nighttime is just what people need to shut off their mind for bedtime.  This formulation is similar to a relaxing herbal tea, however, we use extracts that are much more effective.  Click here for more in depth information about our Relax Capsules.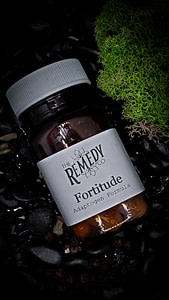 We are very excited about our adaptogenic blend, Fortitude.  This formulation was added to our stress set for its longer term action on stress.  Adaptogens work with our bodies to reach an equilibrium.  This typically translates to less stress and more energy throughout your day.  While the effects of adaptogens take time to build up, we are confident that you will feel benefits after your first bottle of Fortitude.
     We didn't feel that it was right to create a stress fighting set without including an adaptogenic bend.  The benefits are seemingly endless as they work through several mechanisms to enhance energy and immune functions throughout the body.  "Modern studies have shown that adaptogens can non-specifically enhance the resistance of human body under a wide range of external stress conditions."  Click here for more in depth information about our Relax Capsules.
https://www.ncbi.nlm.nih.gov/pmc/articles/PMC6240259/